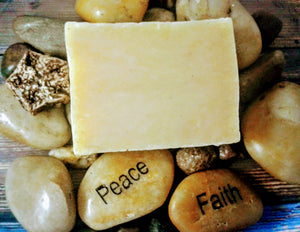 Enjoy this moisturizing bar soap. With Coconut Oil, Olive Oil, and Aloe. No artificial scent. Won't dry your skin, but highly effective at removing dirt. No cancer causing chemicals. All Natural, Vegan, with Essential Oils.   
Ylang ylang helps to relax the body and mind, and can be beneficial to help people suffering from insomnia and fatigue. Ylang ylang can help reduce skin redness and irritation. That's because of the antimicrobial properties found in ylang ylang. Also known for its antiseptic Properties, making it effective in treating acne.   
Orange Benefits  
Antiseptic  

Anti-inflammatory 

Increase Collagen Production  

Help fight signs of aging   
Ingredients: Organic Palm Oil, Water, Organic Sunflower Oil, Organic Coconut oil, Sodium Hydroxide, Organic Olive Oil, Aloe, Essential Oils Ylang Ylang and Orange, Crushed Apricot Seed. 
Thank you for all your support! So happy you are enjoying your soaps!