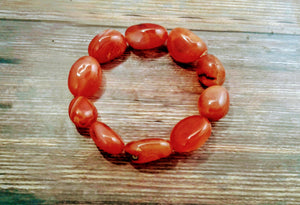 Carnelian is a stone of vitality. Promotes motivation and creativity. Also known as a stone of courage. Carnelian is often used to help boost fertility and stimulate sexuality. This bracelet is apart of our women's collection because its smaller in width. It is a stretch bracelet made from quality elastic. But to ensure its durability, it should be rolled on over the hand and not stretched to its capacity. These are natural stones and are unique and color, size and shape. 
Chakras -  Root Chakra, Sacral Chakra 
Zodiac - Taurus, Cancer, Leo, Virgo 
Planet - Mars
Element - Fire    
Each bracelet is about 15mm 
Comes on elastic stretch band 
Each bracelet has a different color and stone size variations
I Love This Bracelet
Five Stars From me! I LOVEE my Carnelian Bracelet. The stones are beautiful, and it fits just perfect.
Thank you for taking the time to review your purchase. So Happy your enjoying your purchase!! Thank you for the support!!