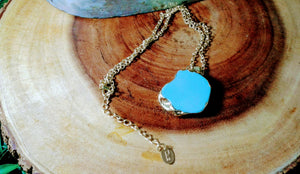 Natural and beautiful Turquoise necklace is one you want to add to your collection. Don't miss out! Classy and very earthy. A sure eye catcher. 
• Genuine Turquoise stone will have natural color variation 
• Shiny gold plate finish 
• Small link chain measures 16" plus 2" adjustment links for individual fit 
• Lobster claw clasp 
Turquoise is a very spiritual stone. A stone of protection and tranquility. It is said to have healing power just by looking at it. Often prized as a stone of wisdom. And worn typically by leaders of a tribe. Very popular in Native/Indigenous culture. Indian/Indigenous priests wore it in ceremonies when calling upon the great spirit of the sky. So it has ceremonial purposes as well. Turquoise has the ability to change colors when wearing it. Because of this, it was used in prophesy or divining. Also great stone to use to help with depression and panic attacks. 
Chakra - Throat 
Element - Air, Earth, water 
Zodiac - Sagittarius