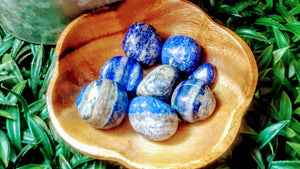 Healing stones are great to carry with you, place on alter or spiritual space, or even put in mojo bags. Great for meditation and Chakra work. Stones have multiple uses in our healing and everyday spiritual practices. Each stone will vary in color, size, and shape.  
Lapis Lazuli, a gemstone that helps bring inner peace and clears the mind of negative thought patterns. A wonderful 3rd eye stone. Lapis can be traced all the way to ancient Egypt. Cleopatra used the crushed powder of Lapis Lazuli in her cosmetics. Also used to decorate the tombs of King Tutt and other famous pharaohs. Said to help with communication between the physical and spiritual world. Making this a wonderful stone to aid in ancestor work. Its a stone known to aid in any form of physical communication and was often worn by High Priest. 
Chakras - Third eye Chakra, Throat Chakra 
Zodiac - Sagittarius  
Planet - Jupiter 
All stones are hand selected and cleansed with white sage before making their journey. Comes with small burlap pouch.