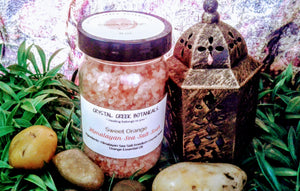 Himalayan salt is mined from ancient sea beds.  It provides a whopping 84 trace minerals, plus a unique ionic energy that is released when the salt is mixed with water. This bath Salt has been combined with the rejuvenating scent of Sweet Orange Essential oils. Himalayan salt benefits include: 
Supporting weight loss 
Detox 
Balance Hormones    
Combined with Sweet Orange Essential Oil. Orange Oil health wise, has been used as an anti-inflammatory, antidepressant, antispasmodic, antiseptic, aphrodisiac, carminative, diuretic, tonic, sedative aide. Spiritually it's used in therapy dealing with the Sacral Chakra, to promote creativity and energy.  (Comes in 8 oz Jar) 
Ingredients : Medium course Pink Himalayan Sea Salt, Essential Oil of Sweet Orange.   
Keep out of reach of small children. For eternal use only.