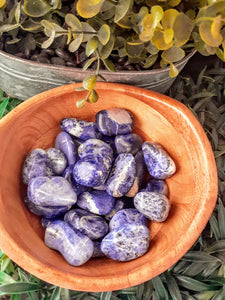 Sodalite is a spiritual stone of wisdom and clarity of thought. Often times called the. "cosmic stone'', due to it's dark blue color with speckes of white which reminds many of the sky. Also because Sodalite is said to help reveal information of the universe. Often times this stone is gazed upon for that very reason. Good with helping to connect with higher self.  
The mixing of these colors is essential for going inside ourselves and discovering the true nature of our characters, our challenges, and the situations we find ourselves in. Pefect stone for self reflection. Used to help cleanse Auras too! 
The name Sodalite is derived from the chemical element sodium.  
Each stone is about 1''-1 1/2 inch and unique to each other. No two stones are the same. All of our stones are genuine and all natural. These are grade A. Comes in resuable burlap bag labled.  (this is for 1 stone) 
Chakra : Throat, 3rd Eye 
Element : Air 
Zodiac : Sagittarius, Gemini, & Virgo