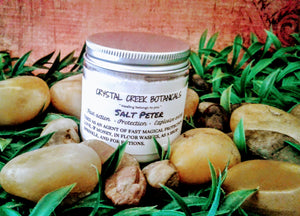 Saltpeter is used to remove curses and jinxes from around your home, yourself, or others. Perfect for protection work. Used for spiritual cleansing. Also good for turning your luck around. 
Carry in a mojo bag. Sprinkle around your home. Also can be sprinkled around a candle. Some add a touch to cleansing baths. Put it in any oil your making for protection, cleansing, and banishing. It's a must have for your spiritual work. Be creative and use your powerful intentions. 
Comes in a 4 oz jar full. Plastic jar is perfect for storing.