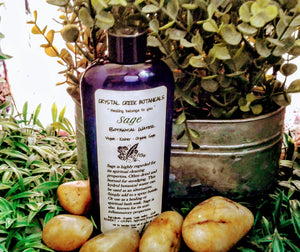 Sage is highly regarded for its spiritual properties. Often dried and burned for smudging, this water can also be an alternative. This refreshing hydrosol water is steamed distilled in small batches. 
Hydrosol water Can be used as a spiritual bath, or used in a spray bottle, and Its safe to be used on most skin types.  
Vegan 
Kosher 
Organic Sage   
Our Hydrosol Waters come with an natural preservative because of the delicate nature of Hydrosol waters.  
 Our GSB preservative are:
ECOCERT and COSMOS Approved
Widely Globally Acceptable
GRAS, (Generally Recognized as Safe)
Broad Spectrum
Gluten Free, Non-GMO
Not Tested On Animals, Vegan
Provides Minor Skin Moisturizing Benefits     
Ingredients : Organic Sage Water, GSB ECOCERT & COSMOS Approved Preservative