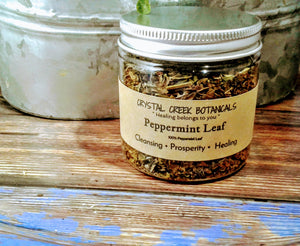 Peppermint is used for : cleansing, consecration, dreams, happiness, healing, love, money, passion, prosperity, protection, psychic development, purification, release, renewal, rest, sleep, divination, good luck, spirit offering, and success. Often used in prosperity and money spells. Used in spiritual baths to add in healing. Placed on your alter to help connect with positive spirits. Our Peppermint Leaf comes in an attractive 4 oz jar. This keeps is fresh and easy to store. This product is a 4 oz jar full and not weighed out. 
Element - Air 
Zodiac - Aquarius, Virgo 
I love it
I love this soap , it helps with my eczema and is clearing up really good
So glad your enjoying your soap!! It makes us happy, to make you happy. And we thank you so much for taking the time to review!!