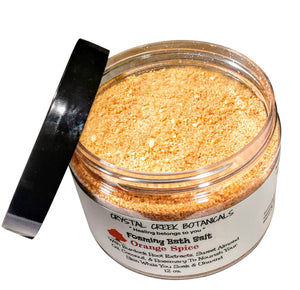 Foaming Bath Salts are a combination of soothing Epsom Salts, Fizzing Bath Bombs, and Foaming Bubble Bath. Use this bath salt as a foot soak or a relaxing bath time favorite. With all Natural Essential Oils and Epsom Salts , to help relax body pains and sore muscles. Keep skin nourished with Coconut oil, and Sweet Almond Oil. Formulated with Burdock Root. 
Burdock Root Properties 
Blood Purifier 
Lymphatic System Builder 
Skin healer 
Helps improves Arthritis 
Used to help combat cancer 
Our Foaming Bath salts helps to promote Spiritual healing & balance with Essential oils Patchouli, Orange, & Cedarwood!!  
Ingredients: Magnesium Sulfate (Epsom Salts), Baking Soda, Citric Acid, Sodium Cocoyal Isethionate, Coconut Oil, Grape Seed Oil, Sweet Almond Oil, Abyssinian Seed Oil, Rosemary Leaf Extract, Essential Oils of Cedarwood, Patchouli, and Sweet Orange. Burdock Root Extract Annato Seed Powder  
Keep out of reach of small children. For External use only