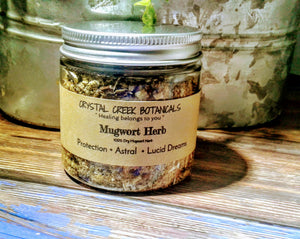 Mugwort can be used as a sacred smoking herb or burned
for protection or divination
. It is safe to smoke (as safe as smoking anything is) by itself, mixed with tobacco, or other smokeables in a ritual context. And is said to enhance lucid dreams, astral projection, 
and other altered states of consciousness. Many make dream pillows and place them under their regular pillow to encourage prophetic dreams. Mugwort is also used in protective sachets, typically for protection during travel. It helps to stop delays. 
Hanging Mugwort over or on a door will keep unwelcome energies from passing through. Our Dry Mugwort Herb comes in an attractive 4 oz jar. Keeping the product fresh and easy to store. This product is not weighed out. 
Element : Earth 
Zodiac : Taurus, Libra 
Energy : Feminine