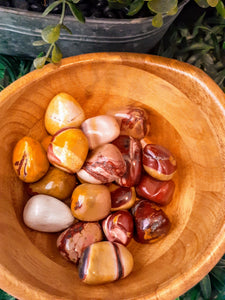 The colors in this stone is amazing!! Mooka is an Aboriginal word meaning, "Running water". This stone is said to have been 1st discovered in Australia. Mookaite is knowm as a anti-aging stone. It helps by teaching the vibration of a young spirit, which assists in reducing the process of physical aging. A stone of the mind and body. 
It is also said to assist in clearing negative issues retained in genetic memory so the next generation does not have to inherit these issues. It also limits unhealthy energy or thought patterns from your auric field which may be associated with aging.  
What a powerful and beautiful stone to add to your collection. Perfect addition to beauty spells. And perfect for elders.  
Each stone is about 1''-1 1/2 inch. This price is for one stone. This stone comes in a variety of shades. No two stones are the same. Each is unique, but all of our stone are %100 genuine and all natural grade A.