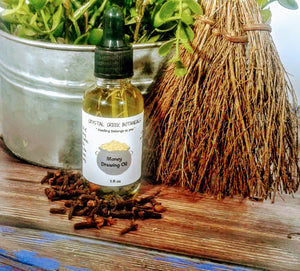 Our anointing oils are made with the goodness of nature. Formulated with magical properties that have been used for hundreds of years to assist with intentions of more money into your life. This powerful Money Drawing oil can be used to anoint candles and used in any rituals of money and abundance. Made with natural herbs such as Whole Clove, Cinnamon sticks, Thyme and other magical herbs.  Andd with Patchouli Oil, Cinnamon Oil, and Magic. We even formulated our Money Drawing Oil, with chips of healing stones such as Citrine, Adventurine and other magical stones. We charge our oils by the full moon. Our current selection of Money Drawing Oils, have been charged by the full moon. The Moon has magnetic properties. These magnetic properties can be used to draw in money and abundance. 
What makes our oils so special? 
Our oils are not just bottles of oil mixed with coloring and unnatural fragrance. We give only the best. We believe nature is magical. But we also add our ritualistic formula and system that has been used by Priestess, Priest, and Shamans alike, to promote your desire. We are serious about our practices and not just marketing magic. We believe in doing the work of the ancestors. We are a spiritual and trusted company. Contact us about any questions regarding any of our products. We also do private candle anointing. We are here for you and all your spiritual needs. We believe in creating a spiritual network. 
How should these oils be used? 
 As with any anointing oil, your own intentions should be added to manifest abundance  in your personal life. These oils can be used in candle magic. Particularly Green candles for Money. And Gold for abundance. You can also anoint yourself after a spiritual bath. Best time to do love work is during the full moon and waxing cycles. Some do 3 day, or 7 day work. Before bedtime is a great time to manifest. Whatever source calls for you to do.  
Each bottle is 1 fl oz 
Comes with dropper for easy use 
All natural formula  
Comes with a green household candle and burlap bag so you can get started right away!!