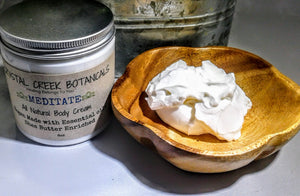 Enjoy the highly moisturizing and Beautiful smell of blended essential oils in Meditate body cream. Formulated to soak directly into the skin. Never leave you feeling oily but highly effective at combating dry dull skin. Meditate has a unique sweet and slightly floral aroma that is not over barring. Great to use in at night but is perfect anytime of day.  
This cream Combines Organic Coco Seed Oil, Organic Shea, Organic Jojoba and Flax seed Oil, along with several other Extracts and Oils to hydrate your skin. Scented lightly with the Essential Oils of Lavender, Patchouli,Chamomile, Mandarin, and Geranium  
Many of us are addicted to fragrance and fragrance has been recently linked to be  cancer causing. Things link body creams and lotions absorb into the skin and into our bodies. Many bath and body companies are selling cheap, non-effective, highly scented creams that are harmful to our bodies. It may smell good, but is it good for you!! Our creams offer:  
No artificial fragrance  
Essential Oil blended 
No cancer causing Parabens 
Vegan   
Ingredients: Organic Aloe leaf Juice, Water, Organic Sunflower seed oil, Kosher Glycerin, Ethlnexyl Palmate, Glycerin Sterate, Organic Coconut Oil, Organic Coco Seed Butter, Organic Shea butter, Beeswax, Celyl Alcohol, Potassium Sterate, Organic Jojoba Seed Oil, Vitamin B5, Macadamia Nut Oil, Borage Oil, Flax Seed Oil, Evening Primrose Oil, Organic Rose Hip, Tamanu Seed Oil, Organic Calendual, Chamomile Extract, Lavender Extract, Patchouli Oil, Mandarin Oil, Geranium Oil, Sodium Carbomer, Phenoxyelhanol ethyexylglycerin.