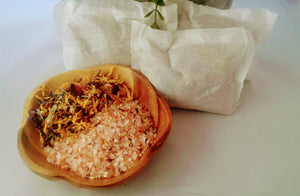 Sometimes you just need to pamper yourself. Spiritual baths are a wonderful way to do personal spiritual work and treat yourself to a spa like experience all in one. Water has memory. therefore setting your intentions while soaking in water makes your spiritual work more powerful. Herbs have spiritual and healing properties. Mixing the natural element of water with earth herbs will aide you in reaching your full spiritual and magical potential. This spiritual bath can also be used as an detox. Our Herbal tea bath has a mixture of herbs such as Rose, Lavender, Hibiscus, Orange peel, and Calendula flowers. Ease Aches, pains, and detox the body with Pink Himalayan Sea Salt.  Essential oil blend of oils to nourish your skin Geranium oil, Lavender oil, Patchouli oil, Chamomile oil, and Mandarin oil. We do all the work for you so you can get straight to your manifestations and spiritual time. 
Our spiritual tea bags are a wonderful way to get all the benefits of a spiritual bath, but won't have to deal with any clean up afterwards. Simply place the tea bag in warm bath water and allow all the ingredients to steep like and actual cup of herbal tea. Or if you like to soak in actual herbs, simply rip the tea bag open and pour all the contents in your warm bath water. Each tea bag has 8 oz of our bath tea mixture. 
Ingredients : Pink Himalayan Sea Salt, Chamomile, Cornflower Petals, Calendula Flowers, Lavender, Rose Petals, Hibiscus and Orange Peel, Essential Oil of Chamomile, Geranium, Lavender, Mandarin, Sweet Marjoram and Patchouli
I love it
Shipped pretty fast ! Love it
Thank you for your review. Glad you love your purchase!!