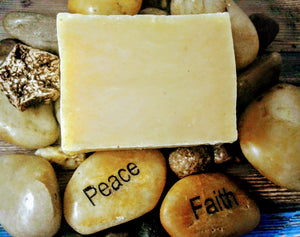 Enjoy this moisturizing bar soap. With Coconut Oil, Olive Oil, and Aloe. No artificial scent. Won't dry your skin, but highly effective at removing dirt. No cancer causing chemicals. All Natural, Vegan, with Essential Oils.  
Lemongrass is very beneficial for the skin. Helping minimize the appearance of enlarged pores. Lemongrass also acts as an toner for the skin, and helps to maintain a clear and even complexion. 
Sage Benefits 
Antifungal   
Fights premature aging 
Antibacterial  
Full of antioxidants   
Ingredients: Organic Palm Oil, Water, Organic Sunflower Oil, Organic Coconut oil, Sodium Hydroxide, Organic Olive Oil, Aloe, Essential Oils of Lemongrass and Dalmation Sage 

Love your soaps. Awesome product!