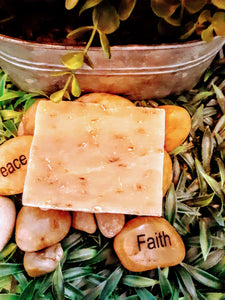 This soap bar is really a treat! The wonderful relaxation of lavender. Perfect for taking the stress off of a long day. Help you to sleep at night and perfect right before meditation. Infused with oatmeal, which is known to aide with all kinds of skin conditions like eczema. Goat's milk which helps keeps skin smooth and soft. 
Our soap is all natural and made with essential oils. Fragrance free, cruelty free products. 
 Ingredients: Vegetable Oil Blend (Olive Oil, Organic Sustainable Palm OIl, Coconut OIl, Shea Butter), Water, Sodium Hydroxide, Goat Milk, Lavender Essential Oil, Oatmeal.