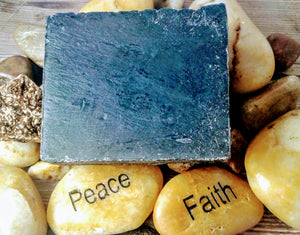 Enjoy this moisturizing body bar soap. With Coconut Oil, Olive Oil, and Aloe. No artificial scent. Won't dry your skin, but highly effective at removing dirt. No cancer causing chemicals. All Natural, Vegan, with Essential Oils. 
Black Activated Charcoal Benefits 
Smaller pores
Balances oily skin
Treat acne
Deep cleanse your skin
Soothe and heal bites, cuts and skin irritations  
Ingredients: Organic Palm Oil, Water, Organic Sunflower Oil, Organic Coconut oil, Sodium Hydroxide, Organic Olive Oil, Aloe, Essential Oil of Lavender Activated Charcoal.