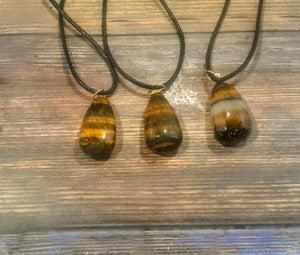 Tiger eye is a earth stone that is said to offer protection, clear thinking, will power, and courage. Its a very grounding stone. Particularly used by many for healing psychosomatic illnesses, dispelling fear and anxiety. Many use this stone to also aide in studying. Tiger eye is said to balance yin-yang energies in the body. Stabilizes mood swings, helps with willpower, and self-confidence. Each stone is hand carved and unique by color, size, and shape. 
Chakras - Sacral Chakra Root Chakra, Solar Plexus Chakra 
Zodiac - Capricorn 
Planet – Sun
Element – Fire, Earth 
Each Necklace come on a 30 inch black leather rope. 
Comes on Gold plated bail. 
Each necklace in tied close and can be adjusted to any size 

Approximately 1.25"-1.5" long average  

Each necklace is hand carved and unique in color, and size. No two are the same. but they are all beautiful!