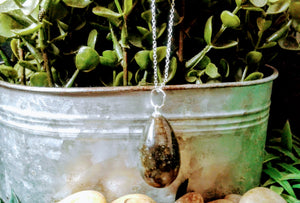 Labradorite  is a stone of transformation and change, helpful by imparting strength and perseverance. It is said to help with balancing energy by protecting the aura. Good also to aide in rising consciousness levels and grounding spiritual energies. Used to relieve anxiety and stress.  
This necklace is a large silver plated, raindrop style. Each necklace comes on a silver plated 24 inch chain. Each necklace varies in tone and style, and is approximately 1.5 inches long. Hand carved and all natural stone. This picture is an example only.   
Chakra - Crown Chakra, Third eye 
Zodiac - Sagittarius, Scorpio, Leo 
Element - Air. Earth 
The products I purchase are of great quality, my order arrives quickly!!! (As usual) Luv the little bags that my stones were sent in!!! Signed...a continuing customer
Thank you so much for your support and being such a valued customer! We are so happy that your pleased with your purchase!