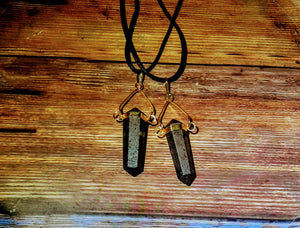 Hematite is a stone used for grounding and balancing out life. Used for clearing and activating the root chakra, the energy center that anchors us to the earth and provides a feeling of stability. The Hematite crystal  is linked to the ability to help absorb any toxic emotions holding you back. Use Hematite to clear away negative feelings caused by stress, anxiety, and worry.  
Chakra - Root Chakra 
Element - Earth  
Zodiac - Aries, Aquarius, 
Necklace comes on a black leather rope 
Unique in color variation and size  
Approximately 2.5"-3" Long 

Gold plated swivel style  

Picture is example only.