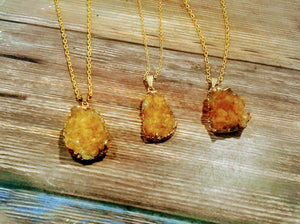 Citrine is a quartz known to attract wealth, prosperity and success. It imparts joy, wonder, delight and enthusiasm. Helps to rise self-esteem and confidence. Known also to also help with depression, fears and phobias. This cluster design is elegant and simply beautiful. Each necklace is unique in form and color variations. We can't ensure which one you will get, but they all are simply beautiful. 
Chakras -  Solar Plexus Chakra 
Birthstone - November
Zodiac - Aries, Gemini, Libra, Leo 
Planet - Jupiter
Element - Air 
 Necklace is between 1"-1.25" L average size  

Comes on an 30 inch, 18k gold plated chain. 

Unique in form and color variations. No two are the same. 

Picture is example only. 
Amazing products
My girlfriend loved the necklace I bought, she wears it all the time. Definitely planning to order more products from here.
Thank you so much! so happy she was loved it! We are grateful for the review. Sorry it took so long to reply.