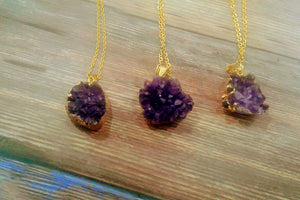 Grab one of our gold plated Amethyst cluster necklaces. Simply stunning and a conversation piece! These are raw and chipped right off. Amethyst is said to carry a high frequency that protects the energy field, clears the aura and chakras, and purifies the individual, helping to remove negative energy. Amethyst is known to carry strong protective properties and guards against psychic attack. Many use this stone to aid with breaking bad habits. This Amethyst necklace  is beautiful natural stone. Each necklace is unique. No two are the same in shape and size. 
Chakras - Third eye Chakra, Crown Chakra 
Birthstone - February 
Zodiac - Virgo, Sagittarius, Capricorn, Aquarius, Pisces 
Planet – Jupiter 
Element – Air, Water    
Necklace is between 1"-1.25" L average size  

Comes on gold plated 18k gold 28 inch chain 

These are natural and raw stones that vary in shape and color. No two are the same   

Picture is example only.