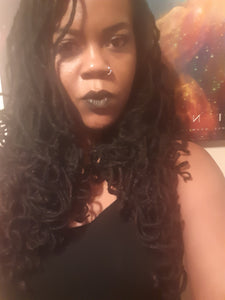 Need questions answered about your spiritual life? Need clarity on what to do next in your walk? We are happy to help you with that!! We all need help sometimes. Even when we ourselves have spiritual gifts. All ow us to be of service to you. Our spiritual advisor Yansa Mahala, is spiritually gifted in the areas of visions, discernment, divination, healing, prophesy, Shamanistic work, and is a seasoned tarot card reader, along with many other gifts. She has Yoruba West African and Haitian roots and is a recognized member of Muscogee Creek Nation. She has been spiritual gifted from birth. So this is not a trend or fad, but a way of life for her and in her blood. You are truly in the best spiritual hands!! 
Before purchasing a consultation, PLEASE EMAIL US 1st!!! Or call 877- 869- 6465. This is to ensure availability. Once a day and time is set via email, please make your purchase. Your appointment will not be set until it is paid for. If for any reason you need to reschedule, please contact us 24 hrs in advance if possible. you will be allowed to reschedule. But if you can not make it or not available at that point, we will not refund you. So please make yourself available. We do try and work our clients. If for what every reason we need to reschedule on our end, we will set another time for you or refund you. Consultation last at minimum 30 mins.  
Please be somewhere where you can speak freely with no interruptions. Have a pen and paper ready to take notes. Also it helps to have your questions written down so you won't forget anything. 
Email us: Contact@crystalcreekbotanicals.com  
Great vibes
I loved my consultation! She is great I highly recommend you give it a try if interested, you'll love it!!!
Thank you so much!! Anytime queen!!!