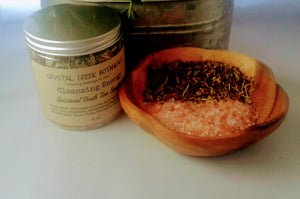 Spiritual baths are a wonderful way to do personal spiritual work and pamper yourself to a spa like experience, both at the same time. Water has memory therefore setting your intentions while soaking in water makes your spiritual work more powerful. Herbs have spiritual and healing properties. Mixing the natural element of water with earth herbs will aide you in reaching your full spiritual and magical potential. This spiritual bath can also be used as an detox. Our Herbal tea bath has a mixture of herbs such as Clary Sage, Rosemary, Peppermint, Spearmint. Ease Aches, pains, and detox the body with Pink Himalayan Sea Salt.  Essential oil blend of oils to nourish your skin Ylang Ylang oil, Frankincense oil, Patchouli oil, and Bergamot oil. We do all the work for you so you can get straight to your manifestations and spiritual time. 
Ingredients: Peppermint, Sage, Spearmint, Rosemary, Pink Himalayan Sea Salt, Frankincense oil, Ylang ylang, Patchouli oil, Bergamot oil
I love my bracelet!
I haven't had opportunity to try my spiritual bath yet, but I absolutely love my Tiger Eye bracelet. It's beautiful and I honestly feel it helps calm me to reduce anxiety. Now I want to look for other bracelets.