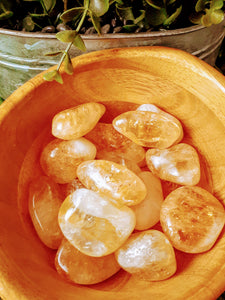 Such a beautiful magical stone! Citrine is a stone that's good for individuals who are sensitive to different forms of energy. It helps by protecting the aura. Aids in building  confidence and a positive outlook. Citrine is best worn in the sun. It increases the light surrounding the body. This stone is known to help increase wealth. The perfect stone to generate abundance. For this reason, many wear this stone as a talisman or placed in a Juju bag. 
Known as a clarity stone. It helps to increase energy, clarity, and helps to add zest to your life. Great for anyone suffering from depression. This stone is a must have if you do healing or spiritual work. Citrine is a wonderful purifier and transmutation stone.  Perfect to use for deep meditation as it helps with soothing the mind and nervousness.    
Chakras: Solar Plexus, Crown. & Sacral 
Zodiac: Leo, Gemini, & Cancer  
Element: Air & fire 
 This is for one stone. Comes in reusable burlap bag with descriptive tag. Each stone is unique in shape and color. Stones are 1 1/2 - 2 inches.