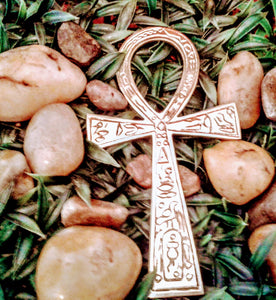 This beautifully engraved brass Ankh is is 6'5 H. Perfect for hanging on your wall Or placing on your alter. Just the right size for any spiritual space.
Ankh
I am extremely happy with my purchase. I can see the professionalism from the very start. I received a free gift with my order.My purchase was wrapped really good and shipping was satisfactory. I feel good about this company and will continue to purchase from them. Thank you for a great experience.
Thank you so much for your support!! So glad you're happy with your purchase! Thank you for taking the time to leave a review.
ANKH AWESOME
Everything is awesome except my Shango candle is shattered . Love the ankh, ancestor money and Yemaya candle.
<p></p><p></p><p></p><p></p><p>I hate to hear that Monica. We do apologize. We had no idea this even happened to you! The package was sent out about 3 weeks ago. The time frame is beyond our store policy. However, We will be happy to replace it for you. I will email you with the process, if that's okay with you? Once you follow the instructions via email, we will have this resolved in no time! Thanks for taking the time to review us. </p>