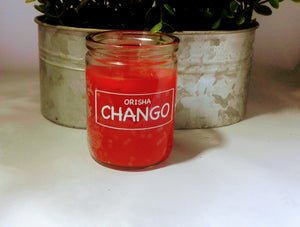 The Yoruba African Orisha Chango Also called Shango, He embodies life energy, lightning and the element of fire. Chango has an absolute taboo against the dead or anything having to do with the dead. This is because he is the life force and therefore avoids death at all cost. He loves music and is the drummer (thunder are the drums of nature) Chango has a temper and when angered will administer quick justice. He fights hard and plays hard. Chango is said to be a ladies man and is a lover of many women. He is very close to his mother Yemaya. So Chango can also be found at the beach. He can also be found near firehouses, especially bars and places with live music, and casinos.  
Traditional Colors: Red and white and gold  
Offerings: Alcohol, chili peppers, hot/spicy foods, tamales, corn bread, okra, tobacco 
Areas of Influence: Life, Virility, Justice, Protection, Magick, The Element of Fire, Lightning and Thunder, Drumming
 Number: 4 or 6 
Gemstones: Fire opals, carnelian , gold, diamonds, lava stone 
Chango
Love the Chango candle... Nothing like quick justice. I like the size and shipping was fast too!
Yes nothing like justice! Thank you for all of your support!