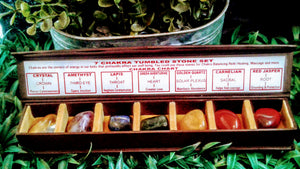 This Charka set comes with seven different stones, that are good for each of the seven  Chakras. This box set is detailed and perfect for beginners new to stones, and/or Chakra healing work. Easy to store and put away. Makes a wonderful gift for anyone into natural and spiritual healing. The stones include: 
clear quartz, amethyst, lapis, green aventurine, golden quartz, carnelian and red jasper. Each Tumbled stone is about 1''. The stones vary in color in each set. The box itself is 10'' long and 13/4'' width. 
Absolutely love my mine!! Crystals are great size to wear in whatever area of chakra that you're working on
Thank you so much for leaving your review! So glad you like it! Truly is a beautiful set!
Perfect gift idea...Sent one to my grandma. She love's them.