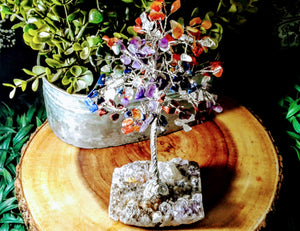 Beautiful design Chakra tree, made from real stones. Perfect for an alter, spiritual space, or just to decorate a special space. Can also be place on your work desk. Helps to add balance to your environment. Trees are a symbol of life, abundance, endurance, and stability. This tree is simply beautiful to just look at. The stone chips include: l
apis, clear quartz, amethyst, carnelian, red jasper, green aventurine and golden quartz. Sits on a Zeolite stone base. Each tree is about 8'' tall.  
Love it!! Bought mine and had to order another for my accountant. She loves hers as much as I love mine
Thank you so much for taking the time to review us!! Thank you for all the support! So happy to know you are enjoying your purchase!!