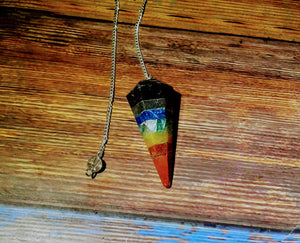 Pendulums are a simple way to communicate with source. The key to pendulums is that it also uses your own energy. Its a form of divination. You can create your own chart to receive answers. Charts can say anything - including the words Yes and No. They can have pictures, maps, and symbols. Pendulums can be made of different materials. This pendulum is made up of several different stones related to the seven chakras.  
How to use Pendulums?  

Sit down and get comfortable. Allow the pendulum to swing free. You do not have to be psychic to use a pendulum. It will guide itself. It is moved by either your own energy, or someone in spirit who works through you, generally your spirit guide. Allow the pendulum to become still.Then ask your question. Most questions asked when using a pendulum have Yes or No answers. 
 
Pendulums movements:
- straight line - side to side or front and back 
- circles - clockwise or counterclockwise
- elliptical motion
- some pendulums bob up and down to indicate strong action  
Now address the pendulum and say, "Show me 'Yes'." It will soon swing in one direction, which could be side to side, back and forth, or circles.
Chakra Pendulum
Great quality, I was very satisfied.
We are so happy that we were able to make you happy!! Thank you for your review!!